All-inclusive services
that keep you safe
All-inclusive services
that keep you safe
A new way forward
in Seniors housing
A new way forward
in Seniors housing
Because Seniors deserve
our very best
Because Seniors deserve
our very best
Affordable and friendly Seniors living
in Vernon, BC
Silver Springs Seniors Community offers quality services, active living, and a variety of amenities for Vernon's seniors. Supporting our is our priority and focus - with everything you need to both live comfortably and safely under one roof. Choose from a variety of studio floor plans or one-bedroom suites in independent living monthly packages.

"I feel the need to express my sincere gratitude for your patience and guidance for the residents at Silver Springs, particularly, for my dad, Jake Wiebe, during these incredibly challenging times with COVID.

My dad speaks very highly of you and it is no secret that he has relied on you heavily since he first got there and has a huge sense of trust in you for your guidance as he maneuvers his way through his older years in life, and certainly now, through the COVID experience.

I just want to say THANK YOU for all that you've done for my dad as well as the huge role you've played in keeping these residents safe through one of the most difficult times in history."
–Theresa K., Silver Springs Resident Family Member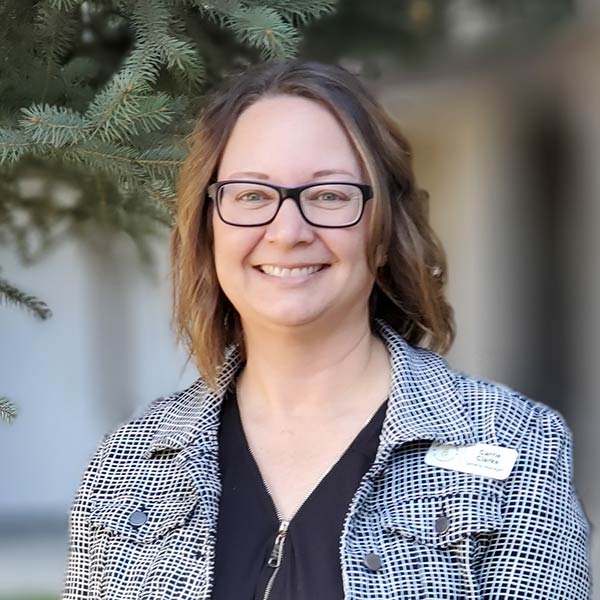 Carrie Clarke
General Manager, Silver Springs Seniors Community
I would like to personally welcome you to Silver Springs Retirement Community. We provide a friendly, comfortable, and safe supportive living home. I consider it an honour and a privilege to be able to help ensure that all of your support needs are met. Family has always been very important to me. Silver Springs has become an extension of my family. I am so passionate about working for VRS Communities as their history of providing outstanding care from all ages exceeds all expectations. I remain focused on creating a culture within the company that every client will be treated with kindness and compassion. I invite you to join us at Silver Springs!
Carrie Clarke
General Manager, Silver Springs Seniors Community
Location Features

Hair salon

Library

Games/Activity room

Lounge

Courtyards

Garden area

TV Room

Country Kitchen

Tuck Shop
Take a virtual tour
A variety of open and spacious floor plans to choose from! Our classically designed suites are newly renovated, close to downtown, include personal A/C and private outdoor space.
"Thanks for taking the time to talk with me when I was in Vernon earlier this month. I appreciate your time and your clarity.

I was very impressed with Clarke's physical condition. He looked so much healthier than he did before he moved into Silver Springs! Obviously, your environment is just what he needs right now.

I was also relieved when I met you and various other staff members. It became quickly evident that all of the negative rumors which abound about Seniors living do not apply in any way to you and other staff at Silver Springs. It seemed very clear that everyone who works there takes a sincere interest in all of the residents of Silver Springs and make their well-being and comfort a big priority. Thank you for that. I was so impressed and pleased to see you all in action.

Thank you, Carrie - and thank you for your caring oversight and management of Silver Springs. I can see why you have such a great reputation in the community."
–Cecilia, Resident Friend
because seniors deserve
our very best!
because seniors deserve
our very best!
because seniors deserve
our very best!
because seniors deserve
our very best!